First off i have to say that H!P has had an amazing couple of weeks, what with the gradustion of Eri, Junjun and Linlin on December 15th, S/Mileage's big win at the Japan Record Awards and the announcement of the new 9th generation members. 2011 seems like it's going to be the year H!P starts to fight back and i am so excited to see what UFA will do to keep this recent push going.
Now on to my rankings of H!P. I will include Eri and JunLin in this.
Top Members
I will try to be as unbias as i can with this.
Morning Musume
Takahashi Ai is still the top dog in H!P. It's kinda hard for me to find something from this year that was bad for her. She released another PB, solo DVD and remains the lead in MM. But it is getting tiring always hearing her vocals on every single. Hopefully this year, management will still keep her as the lead but distrbute the lines a bit more fairly.

For Berryz, it was hard for my to be completely unbias here. I just wanted to put Captain as top member. So instead i went for Momoworld. I feel that she's the most consistant member of BK right now. Dancing and vocal skills are as strong as ever, released a PB this year that fit her perfectly from the images that i've seen over on the Picture board at H!O.
Again, it was hard to find a top member for C-ute. I wanted to put Chisa here but i felt that it would be better to put Chisa in the most improved member than top member. So why did i Put Maimi here? Well because i can't stand Airi, Mai is annoying and Saki didn't really shine that much this year leaving Maimi. And if you know me, you'd know that i can not stand Maimi voice so me putting her here is completely unbias.
The overall winner for Top Member has to go to S/mileage as a whole. They have had an amazing year, gaining 16,000 smiles for them to debut, having all 3 of their singles enter the top ten, releasing an album, having their own concert, out shining Mano at their joint concert, declaring war on every female idol group including their senpais finally ending in them winning Best New Artist. Couldn't really give a single member this award but i feel that they really deserve everything that they are getting after all the hard work that they've been putting in all these years.
Most Improved Members
Kumai has improved a lot this year. She's taken to being center with easy and her dance and vocal skills are improving, all be it not that much in the vocal department.
Mano has improved this year, her singles weren't as depressing as her earlier singles were. Her vocals are improving, but not as fast as i would like considering that she is (for the moment) H!P's only soloist. Her new single sounds good, lets hope she learns to put out twice as much energy into her performances than she does now. Oh and i watched Death Game Park the other day, it was good, confusing but good. Her character was just annoying and i was laughing at the end when she
finally
died.
This award has to go to Okai Chisato. Going from back up dancer to front girl in 4 singles is quite an improvement. Her vocals rival that of Airi's if not better. She has her own Ustream channel, Okai Chan Sleep, she has over 2 million views on youtube with her dance covers, released a PB and solo DVD ans was the first current H!P member to release a digital single on iTunes with a cover of Matsuura Aya's LOVE Namida Iro. What does 2011 hold for Chisa? well this year is promising to be another great year for her. As i understand, she's not only in the center for C-ute's new single Kiss Me Aishiteru, but she has more lines than Maimi. Chisa is definately on a roll and it will be good to see how far UFA is willing to push her.
Bottom Members
Now this is my completely bias opinion.
And the award for worst member of H!P goes to.......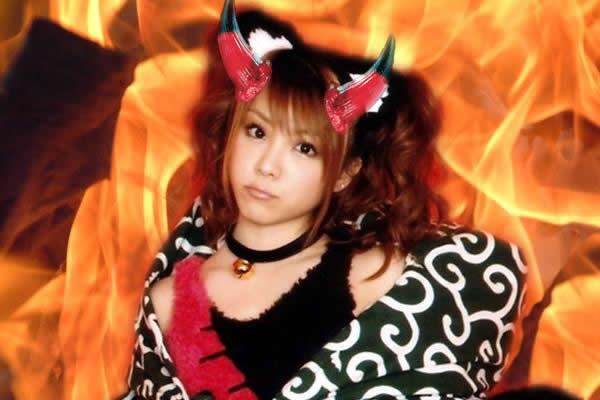 Tanaka Reina
For stealing Eri, Risa, Junjun, Linlin, Sayumi and Ai's concert and album solo's, lines and screen time.
As for mu personally rankings,
Knotice how Sayu has gone up above Ai, this is due to having to see her everytime i looked at this blog.